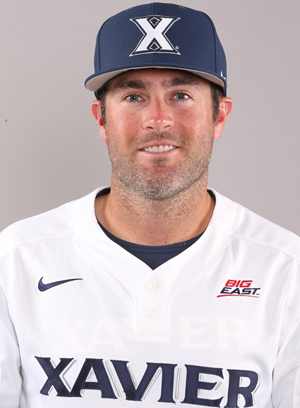 Billy O'Conner was named the seventh head coach of the Xavier baseball program in June of 2017 after a decorated playing career and six years on the staff as an assistant.
In his first season, XU went 20-35 overall with a 7-11 record in league play. His first career win came on Feb. 20, 2018 in a 3-2 win at No. 8 Kentucky in 10 innings. Despite a number of injuries, the Musketeers broke their program record with 68 homers and were again one of the top offenses in the BIG EAST during the 2018 season. 
O'Conner recently completed his fourth season as an assistant on the XU staff during the 2016-17 season, helping the Musketeers to a third BIG EAST Championship in four years and a second straight NCAA Tournament Regional Final.
During his time on the staff, XU has posted three 30-win seasons, made three appearances in the NCAA Tournament and had eight players selected in the MLB First Year Player Draft. That number includes back-to-back years with multiple picks and a program record four selections in the 2017 draft.

BEFORE XAVIER: Prior to his current role, O'Conner spent one year as an assistant at Northern Kentucky and two years in the volunteer assistant role at Xavier.
O'Conner also managed the Great Lakes Summer Collegiate League's Cincinnati Steam for three summers, leading the team to a first-place finish in 2012. O'Conner was named the 2012 Joe Carbone Manager of the Year for his efforts.
PLAYING CAREER: After beginning his collegiate career at Indiana University, O'Conner played his final two seasons at Xavier. He helped the Musketeers advance to their first NCAA Division I Tournament after capturing the 2009 Atlantic 10 Conference tournament championship. O'Conner was named the Most Outstanding Player of the A-10 Tournament.
As a senior captain, O'Conner batted .333 with two home runs and 39 RBIs and helped the 2009 team win 39 games, the highest single-season win total in program history. O'Conner was also a member of Xavier's 2008 squad that won the A-10 regular season crown.
At Xavier, O'Conner proved to be a standout student-athlete both on and off the field. Prior to his stint at XU, O'Conner was a key member of the Indiana University baseball team where he earned a Big Ten Conference Scholar-Athlete award.
O'Conner played two seasons at the professional level after graduating from Xavier. He spent one year as a member of the Texas Rangers organization, playing for the AZL Rangers and Spokane Indians, before playing one season for the Frontier League's Washington Wild Things.
PERSONAL: Outside of collegiate baseball, O'Conner has been active with the Cincinnati Reds Community Fund, the Vs. Cancer Foundation, and has been active in numerous community service projects, including Read Across America.
O'Conner is a Cincinnati, Ohio native, and earned his finance degree from Xavier in 2009.